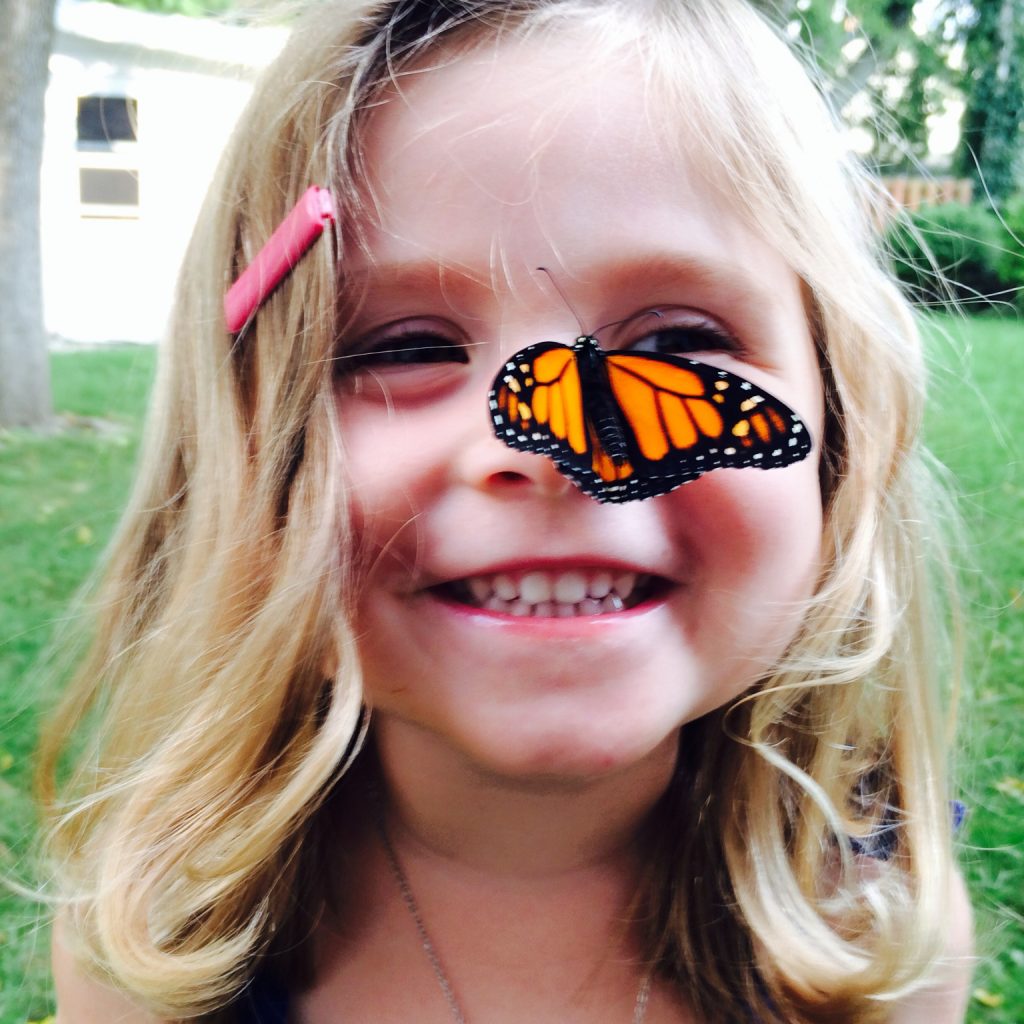 Photo by Erik Zimmerman: Cloe Zimmerman gets one last kiss from the monarch she raised, before it
starts migration. It's a magical moment when the fresh young butterfly spirals
upward, then heads resolutely SW towards Mexico, 2,000 miles away.

By David Thompson
The migration of monarch butterflies is one of our greatest natural wonders.  To be in a mountain forest of Mexico on a warm March day–when a million butterflies take flight, stretching their wings in the sun—is a spellbinding moment.  It's possible our children will never have that opportunity.
Scientists count monarchs by measuring the area of Mexican forest occupied by dense clusters of butterflies hanging from branches.  Twenty years ago, the monarchs occupied 44 acres.  At their low point two years ago, the area had plummeted to only 1.66 acres, representing about 35 million butterflies.  That's a decline of 96 percent.
The decline is due to loss of habitat–illegal logging in Mexico, coupled with a drastic reduction in areas in the US where milkweed grows—the only food for monarch caterpillars.  In the last few years, new evidence indicates that the most widely used family of pesticides– the "neonics"– are also contributing to the decline of both monarchs and other pollinators.  These pesticides drift off the fields where they are applied.  In surrounding areas, even though present in exceedingly tiny concentrations, they can still sicken or kill both insects and aquatic organisms.
Five years ago, the Friends of Lake Wingra began to focus on improved management of the lake's watershed.  We planned increased public education focusing on watershed problems, but soon learned that "watershed" was an unfamiliar concept.  We decided that an animal could serve as an "ambassador" for the watershed.  The monarch proved to be the right choice for several reasons.
First, monarch butterflies range all over the watershed, feeding on native milkweeds in yards, parks, and especially along the shores of lakes.  While they aren't aquatic, they are iconic residents of the watershed which is critical to the health of Lake Wingra.
Instead of using the word "watershed," we prefer to emphasize the idea of healthy "neighborhoods" or "communities" of plants, animals, and people, all living together.  A clean neighborhood leads to healthy people and lakes.  Clean means less of the following pollutants: pesticide, fertilizer, pet waste, de-icing salt, leaves in the street, dust, and muddy runoff from construction sites.
What's good for monarchs is good for the lake.  For example, one of the best things people can do for the lake is to build rain gardens.  These depressions planted with native perennials trap dust and other pollution, while replenishing City wells and springs around the lake.  They can also reduce flooding and provide wildlife habitat.  When rain gardens are planted with milkweeds and nectar plants, they provide food for both monarch caterpillars and the nectar adult butterflies need for feeding.  Borders of milkweed and native plants around lakes and waterways protect lake health and provide habitat and food resources for Monarchs and other pollinators.
Monarchs are a magnet for people, which helps us spread our message. When we bring Monarchs to events, people flock to our table.  We recently sponsored the IMAX movie "Flight of the Butterflies," which sold out twice, giving 600 people the chance to see the migration and life cycle of the monarch butterfly.  Teachers are especially enthusiastic about environmental and science education, and would like access to emerging butterflies without the high cost of commercial suppliers.
In the fall of 2014, FoLW began supplying monarchs to Thoreau Elementary School, making presentations to three second grade classes, leaving the chrysalises to emerge later.  The following May one of the teachers let us know that the students were still talking about the Monarchs.
During the summer of 2015, I raised about 200 monarchs. Doug Ray contributed more caterpillars, while many others helped collect eggs.  I took caterpillars and butterflies to the children's room at Sequoya Branch library, a City camp, neighborhood kids, and Science Thursday at Wingra Boats.  In September, Amy Zimmerman and Karen Faller helped distribute monarchs to 14 schools.  The biggest audience was at Lincoln Elementary, where science teacher Clare Seguin showed monarchs to all the students at the school.  At least two classes made amazing videos of monarchs emerging.
We believe kids are the key because they will be the ones to support conservation in the future.  Also, every time you engage a child, many adults around them hear the message as well.  We want to inspire kids to save the monarchs by giving them the chance to see a butterfly emerge from its chrysalis and take flight.  So this summer, we want to expand the program by engaging more people in the process of providing monarchs to kids.
Here's how you can help…
Plant milkweeds such as common milkweed, swamp (red) milkweed, or butterfly weed.  Plant flowers for nectar.  Build a rain garden.
Find and raise 10+ eggs.  Let a child see one butterfly emerge, and then provide the remaining chrysalises to FoLW for our programs, or to your child's teacher.  We'll show you how to find eggs, and provide help with the rest of the process.  It takes about a month to go from egg to butterfly.
Help us find schools, churches, or camps where we can present.
Don't use neonics at home or purchase treated plants.  Google "common household neonics."
If you are experienced raising monarchs, please provide us with chrysalises—we will distribute them to schools.  We need them now for summer programs or for schools in September.
If you are a teacher, contact us soon so we can supply you with chrysalises in. September.  Or let us know if you need training.
Parents—help distribute chrysalises to your school in September.
Children who raise monarchs can do a "show-tell" to their class in the fall.
Check www.lakewingra.org/events or check our Facebook page regularly to find monarch programs near you.
All across America, people are pulling together for monarchs and native pollinators—planting more milkweeds and reducing the usage of the dangerous neonics which are threatening their survival.  This iconic insect is so evocative of hope and transformation.  With your help, perhaps there will still be monarchs for your great-grandchildren to watch with wide eyes–as the fresh orange adult unfolds her quivering wings.