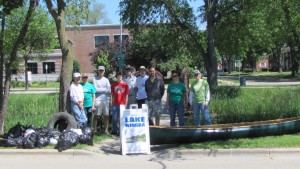 June has been a busy month for us around the Wingra Watershed!  We started off the month by participating in the Annual Wingra Creek Cleanup.  Thanks to our advisor David Liebl for organizing that event for us and to Strand Associates for helping out too.  The above picture shows most of the group at the end of the day with our bags of trash.  Participants received free tshirts from Dane County because this was a "Take a Stake in the Lake" event.  The amount of trash present was down from previous years but we all had a good time either cruising around via canoe or clambering around the shoreline.  Thanks to everyone who participated, we had 21 participants this year.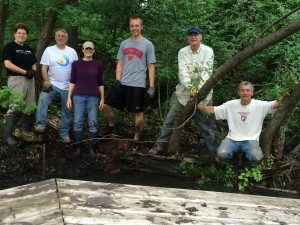 The following Saturday, a local watershed resident, Hiam Garner, organized the Wingra Springs cleanup.  Thanks to Hiam for taking an active role and leading our effort there.  These springs (which may be known by other names locally) are located along the boardwalk on the campus of Edgewood College.  They had become rather crowded with brushy vegetation and full up with muck over the years so we set to work on making them more open.  The above photo shows part of our group at the end of the work party, if you look closely you can see lots of mud!  A few of our brave volunteers actually shoveled bucket fulls of muck out of the spring in an effort to remove debris and help the springs flow more freely.  The following photo shows the huge pile of brush that we cleared out from around 2 of the springs.
We also participated in Jazz in the Park last weekend which you can read about here: Rainy but fun Jazz in the Park
Our final event for the month is tomorrow (Thursday June 25) from 6-8pm at Wingra Boats.  This will be a fun paddling evening on Lake Wingra.  Come out and meet the current board of Friends of Lake Wingra and join us for an evening paddle.  Bring your own boat or rent a boat from Wingra Boats and receive a 20% discount.  We hope to host more fun events over the rest of the summer so stay tuned for more details about upcoming opportunities!