Rainy but Fun Jazz in the Park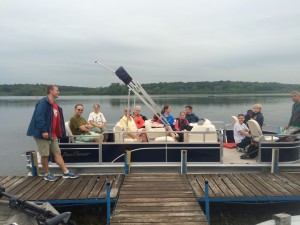 Last Saturday was the 24th annual Jazz in the Park event at Wingra Park.  Friends of Lake Wingra participated by setting up a tent where curious attendees could check out samples of water from Lake Wingra using dissecting scopes provided by Edgewood.  The lake water has an amazing amount of biodiversity to view.  Samples included a damsel fly nymph, daphnia, orb snails, gilled snails, ostracod, algae, eurasian milfoil and others.  Even though the rain kept the attendance levels down this year we had a good time with this interactive activity.  Additionally, as shown in the picture above we were able to provide a free pontoon boat ride for some attendees once we decided that the rain was going to hold off!  Thanks to Tyler at Wingra Boats for providing the boat for us to use and to Jim Lorman for providing the tour and Ben Yahr for driving the pontoon.  We might have to try this again another time when the weather is more cooperative!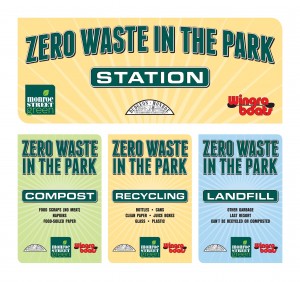 Thanks to effort put forth by Wisconsin Environmental Initiative (WEI), Wingra Boats, and Dudgeon Monroe Neighborhood Association (DMNA) this year's Jazz in the Park was a "Zero Waste in the Park" event.  There were three stations setup for attendees to use and volunteers wore aprons and helped to make sure that the correct receptacle was used.  Friends of Lake Wingra would like to thank  WEI, Wingra boats and DMNA for making this effort towards sustainability and hope that future events around the Wingra Watershed (and elsewhere) can follow your lead!