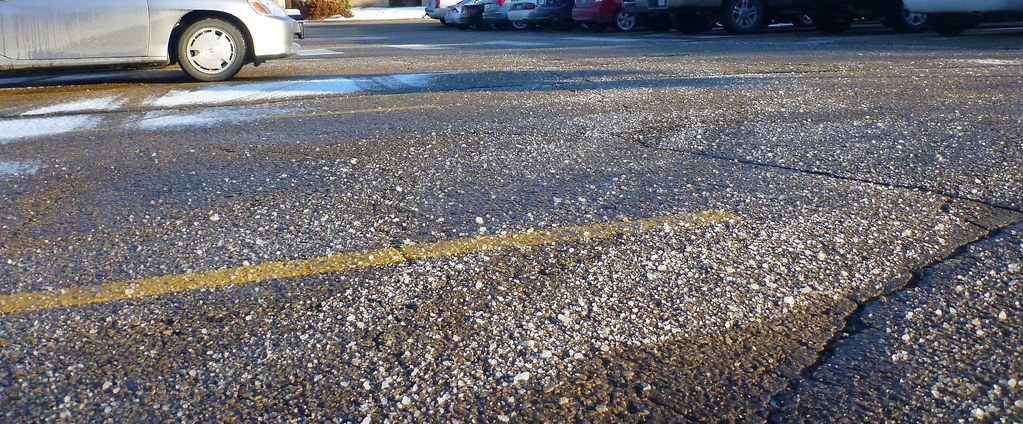 (Overly salted parking lot – photo by David Thompson)
Road salts are toxic to aquatic life in Lake Wingra and are virtually impossible to remove from the lake once they are put there. It is important to reduce the amount of road salts that are used throughout the Lake Wingra watershed. Many applicators use 5 times more than the recommended level of road salt.
Residential de-icing salt usage represents a small portion of the problem created by overuse of road salt so to make an effective change we are asking concerned residents to take additional action to help solve this problem.  This winter Friends of Lake Wingra is asking you to take the following three steps that will help to reduce the overuse of road salt.
Call the City of Madison streets department and let them know that you care about the health of our lakes and you would like them to use LESS road salts. Also call to thank them for using less salt, and to thank them for their work keeping the streets clear.
Adjust your winter driving expectations; drive slower and allow more time to get to your destination safely.
If you notice commercial properties that are using excessive salt, speak to the manager of the business and let them know that reducing the usage is important to you.
If you would like to commit to reducing your personal de-icing salt usage and take other steps to help Lake Wingra take our Lake Friendly Best Management Practices survey today!
Find out more about reducing road salt usage in Wisconsin at www.wisaltwise.com.