By Casey Hanson
Have you heard the superstition that spilling salt is bad luck and that if you did, throwing a pinch over your left shoulder should help avert any evil omens you've just incurred? Maybe they were talking about road salt application the whole time! Let us explain. For years, a majority of cities applied road salt and now the long-term consequences are catching up to us. Now, we are at present day with a bad omen of high chloride levels threatening our health, infrastructure, and aquatic life. So what's the pinch of salt we're planning to throw over our left shoulder? You'll have to keep reading!

In the Lake Wingra Watershed nearly half of the chloride that enters the Lake is from commercial, multifamily, or institutional properties. These types of properties typically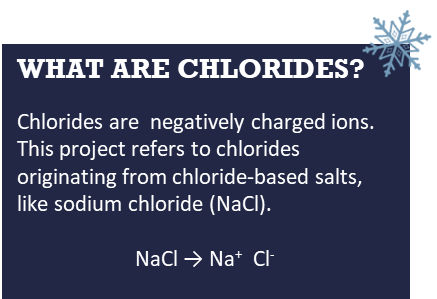 utilize commercial contractors for winter snow removal. Therefore, it requires a collaborative effort between many parties (e.g., winter maintenance professionals, the City, FoLW, property managers) to identify the best ways to reduce winter salt use. From December 2015 – March 2017 Friends of Lake Wingra worked on a road salt reduction project to better understand how rock salt application levels could be reduced through (1) teaching private salt applicators about appropriate salt application rates, and (2) utilizing brine as a pre-treatment. If you are unfamiliar with brine, brine solutions are effective down to 15-17°F and under the right conditions prevent snow or ice from bonding to the pavement. This increases plowing efficacy; when more snow is removed, less salt is needed.
Looking at our brine observation study here's what we found: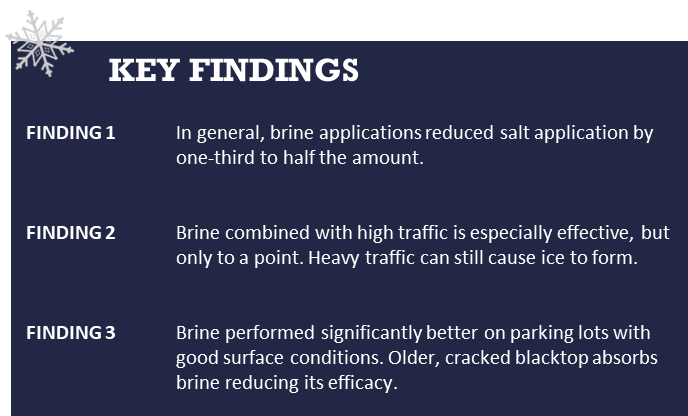 Brine application as a pretreatment is observed to reduce salt usage. However, these findings suggest a cookie-cutter application approach will not work and brine cannot be used in every winter-weather scenario. To understand why, check out our two-page fact sheet on our study!
Moving forward we are discussing the creation of a video to promote this project and research with the Madison Metropolitan Sewerage District. We will also be increasing awareness about the City of Madison's new salt applicator certification program. It is a voluntary program, open to all in Dane County. This program encourages winter maintenance professionals to use the least amount of de-icing material necessary in order to keep parking lots, roads, sidewalks and driveways safe.
Ways You Can Help Reduce Salt Use:
Spread the word about the City of Madison's new salt applicator certification program. Think of any companies or property owners you may know or do business with frequently.
Tell businesses and organizations you support any steps they take to reduce the amount of salt used in winter.
Visit WI Salt Wise to see what steps you can take to improve your own salt use! https://www.wisaltwise.com/homeowner