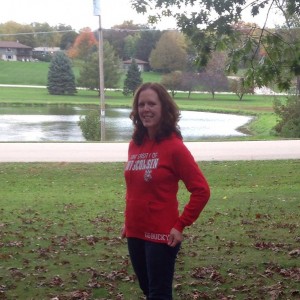 Hi! My name is Susan and I am the new Volunteer Coordinator for Friends of Lake Wingra. I am also a graduate student in the new Environmental Conservation Professional Master's Program from the Nelson Institute at UW. I have a strong interest in native plants, urban natural areas and stormwater mitigation techniques. I hope to use what I have been learning in my graduate program to reconnect people of all ages to nature as a way to improve stewardship of urban environments. In my (limited!) free time I enjoy gardening, hiking, cooking, baking and knitting.
I am relatively new to Wisconsin, my husband and I moved to Madison in June of 2013 from eastern Iowa. I received my undergraduate degree from the University of Iowa in Environmental Science. Over the course of my career so far I have mainly worked in environmental consulting and also owned and operated a small family based construction company. Additionally I worked for 2 years for the Iowa Department of Natural Resources Air Quality Bureau.
Friends of Lake Wingra has a lot of great outreach ideas for the coming year so I hope I get a chance to meet a lot of new people as I get to work in the watershed area. I may be knocking on your door in the coming months to talk about downspout disconnection, rain gardens, native plants, butterflies and more!