I embarked out on Wingra on Saturday, January 20th. The sun was shining bright and the temperature was 48 degrees. If we didn't have 12" of ice I'd be pretty timid to test the waters so to speak (being so warm). Which brings me to a couple ice safety guidelines when ice fishing. First things first, there is no such thing as "safe" ice. Always fish with a friend. In "early" ice season take a spud bar with you to check ice depth. If it is too thin, stay off. Below are some ice thickness guidelines you can use  provided by the MN DNR:
Ice Safety Guidelines
Under 4″ – STAY OFF
4″ – Ice fishing or other activities on foot
5″ – 7″ – Snowmobile or ATV
8″ – 12″ – Car or small pickup
12″ – 15″ – Medium truck
For more information, read the page by clicking the link below:
http://www.dnr.state.mn.us/safety/ice/thickness.html
Now to the fun stuff, fishing. Like I mentioned earlier, the weather was awesome. Lots of people were out enjoying the lake which brings a big smile to my face. I drilled 5 holes, 2 for tips-ups set with medium shiners and 3 jigging holds for me and a couple friends (WI fishing regulations let you have 3 lines per person).
We jigged for 2+ hours with only one fish caught (a Crappie) using small tungsten jigs tipped with wax worms. We finally called it a day with it being so slow. I was not surprised. The most successful I've ever been on Wingra is early morning, about 7:30/8 am until 10:30 am.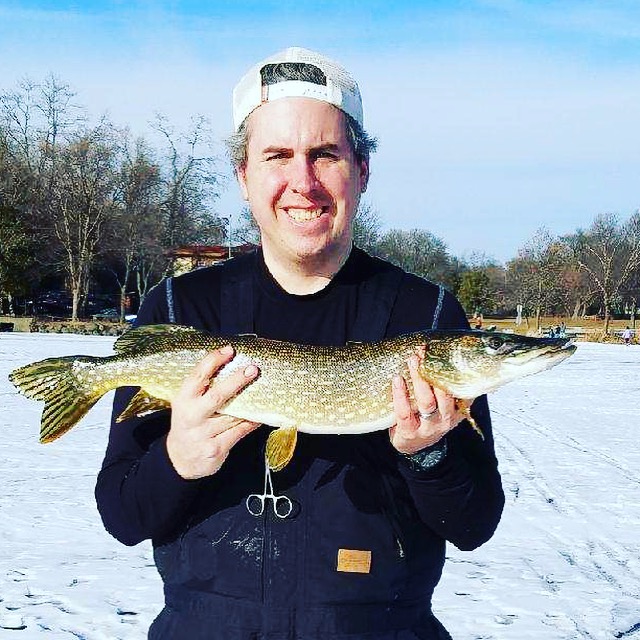 As we were packing up the gear (always pack the tip-ups last) my friend yelled, "TIP-UP!" I quickly tended the tip-up as I could see the line being spooled out. I set the hook and the fight was on. It felt pretty heavy, I thought it was a big bass or a musky at first. To my surprised I pulled through the ice a 30" Northern Pike. This made the slow day worth it in my book.
If you are thinking about getting into the "sport" and want more info, send an email to FishingWingra@Gmail.com. It's never too early or late to take up the hobby. My 2 year old daughter loves fishing (see featured photo above)!
"Tight lines",
Johnny, Friends of Lake Wingra Board Member
Photos provided by John Armstrong