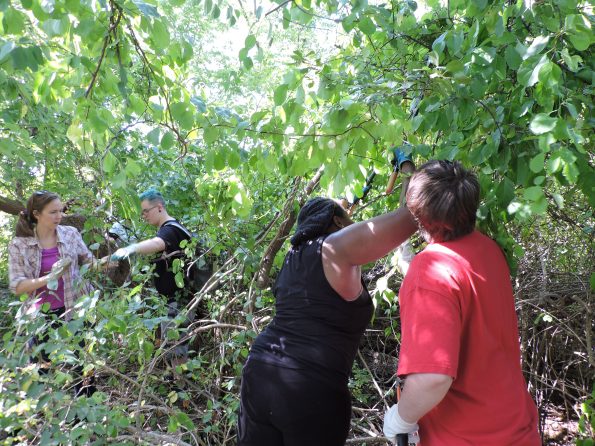 How Capital High Students Helped Lake Wingra's Watershed
Have you ever explored the UW-Arboretum foot paths on the southwest side of Wingra Boats? If so, you may notice sections of it are dominated by oriental bittersweet, an invasive woody, climbing vine that can choke and kill native trees.
A group of forty eleventh graders from Capital High came to the rescue and helped us and the UW- Madison Arboretum remove some of it last Wednesday, September 13! The students got really into it and had a great time. Look at that teamwork they used to pull large vines off of native trees!
Don't take our word for it, hear what some of the students had to say:
"We went hiking kinda and kayaking I learned that to keep a[n] [ecosystem] system good we have to make sure we take care of are trees and cut bad things off of them.  I also learned how to paddle inside a two person[ ] kayak it was relaxing and really fun."

 – Destiny Watkins, 11th grade
"My team in the bittersweet project made double the pile. Worked extra hard in helping/communicating. When canoeing the partner [I] had tried to drown me by trying to tip our boat, and we played a game of zombie. So in my conclusion my experience was overall awesome sauce."

– Trinity Wilson, Grade 11
Photos by Joel Jarosky