A lot has happened around our watershed this year, both on the surface
and behind the scenes. What new things are you most excited about?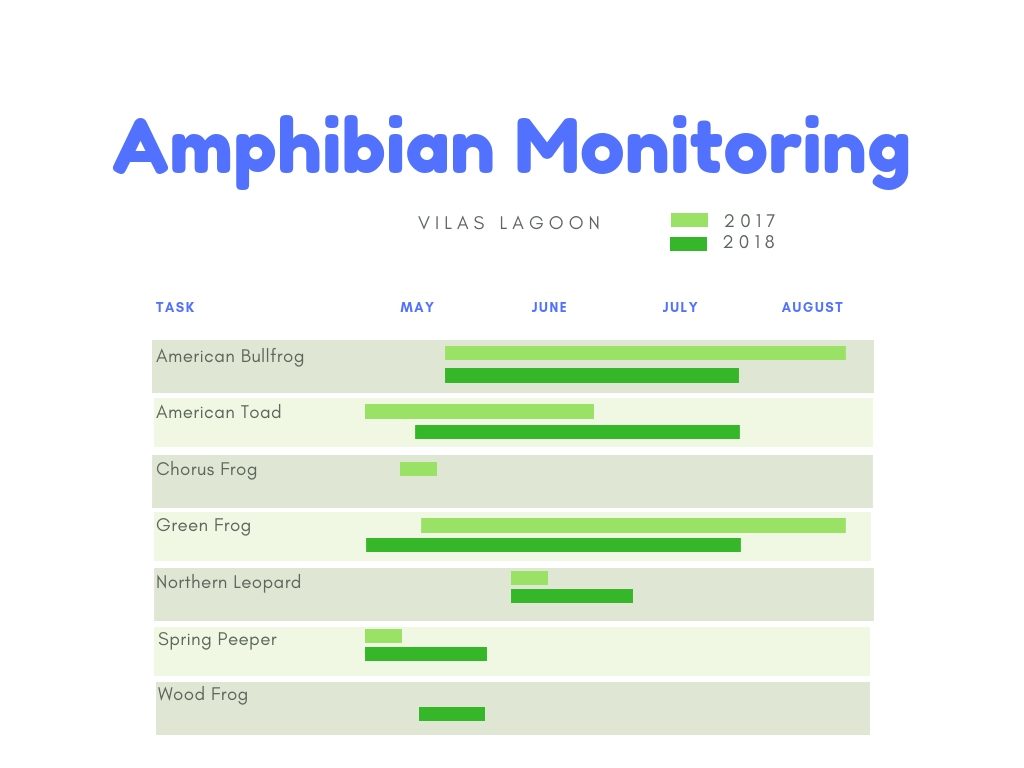 We completed our second year of frog and toad citizen science monitoring! Our volunteers heard six different species. See when we heard them and how it compares to last year (2017) in the chart. We heard more frequent calls in 2017 compared to 2018. For example, volunteers heard the American bullfrog 60 out of 92 (~65%) observations in 2017. In 2018 they only heard the bullfrog 4 times during the 41 (~10%) observations.
While several factors can influence the activity of a frog or toad, we think the main reason for lower activity in 2018 was due to the Vilas Bridge Reconstruction. We will see if the activity picks up again in 2019!
Thank you to our 2018 volunteers Heidi Horn, Ann Rivlin, Barbara
Sommerfield, and Anja Wanner – we appreciate you so much!
Overview of 2018 Efforts
Eight Outreach Events
• Ice walk
• Spring tour at Wingra Blessing
• NRF field trip
• Sequoya Library Anniversary Celebration
• Several monarch events: Olbrich's butterfly action day, IMAX Flight of the Butterflies, Children's Museum, Madison Library
Seven Partnerships
• UW Engineering
• Badger Volunteers
• Wingra Boats
• UW – Arboretum
• City Engineering
• Dudgeon Monroe Parks Committee
•Dane County
Four Public Engagement Projects
• Heritage plan
• Monarchs for Kids
• Amphibian Citizen Science Monitoring
• 3-year Strategic Planning
Thirteen Volunteer Events
• Badger Volunteers (11 weeks)
• Wingra Creek Clean Up
• Clean Lake Alliance Volunteer Event
Five Communication Projects
• Watershed bike map brochure
• Monthly e-newsletters
• Biannual newsletter
• Water quality monitoring blog updates
• Social media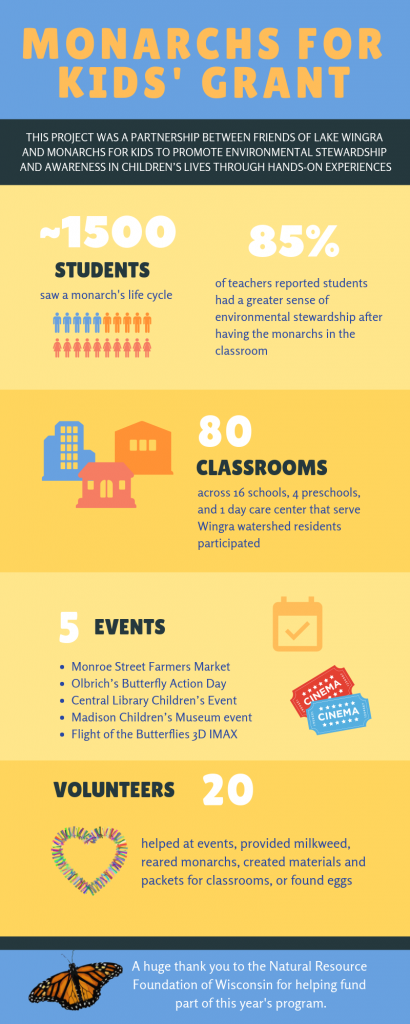 Monarchs for Kids
A grant for monarchs from the Wisconsin Natural Resource Foundation helped us to bring the life cycle of monarchs to classrooms that serve Wingra watershed residents this fall. One teacher said, "It was wonderful to watch 4Kers…They were THRILLED. Even during conferences in late November, family members were still sharing their child's excitement about raising and freeing butterflies…" The grant had a large, measurable impact on students (left).
We had two new developments this year. To minimize releasing infected monarchs, Karen Oberhauser, Director of the UW – Madison Arboretum helped us learn how to test for the OE parasite. We also looked for a new sponsor better suited to ensure the long-term success of Monarchs for Kids. The project is very labor and resource intensive and we are thrilled to have found it with the Madison Children's Museum!
Words cannot express the gratitude and pride we have for our board member and Monarchs for Kids founder David Thompson. He dedicated an
immense amount of time in the program; it has quickly grown in popularity over the years. This year alone, with the help of many volunteers, he provided eggs to 144 classrooms at 33 schools (this is including schools outside of Monarchs for Kids' partnership with Friends of Lake Wingra). None of this would have happened without him.
Strategic Planning
Our strategic plan, the rudder to our kayak, will keep us on track when crosswinds try to reorient us. Using feedback from our supporters, Lake Wingra lovers, stakeholders and advisors, we will spend the next three
years focusing on organizational sustainability, communications, and the Wingra Watershed Management Plan. By finalizing our action plans for each topic, we plan to wrap up our strategic planning process in early 2019. Learn a little bit more about what each strategic issue means:
Organizational sustainability:
• Attract and retain board members.
• Reflect the demographics of our watershed in our board members.
• Increase financial health to provide more hands-on projects.

Communications:
• Craft applicable messages to different audiences.
• Expand our network based on diversity (location, race, gender, age, etc.), professions (e.g., teacher, business), or enthusiasts (e.g., runners, paddlers, fisher people).
• Promote an active watershed by enhancing volunteer opportunities.

Wingra Watershed Management Plan:
• Define one area to focus on.
• Identify partners to help implement the plan.
• Define funding sources.
• Define measurable criteria for success.
THANK YOU to all of our monarch volunteers this year!
Liz McBride, Amy Callies, Dawn Daly, John Gern, Kevin Thies, Bridgette Baldwin, Jodi Pahs, Alissa & Sylvia Bazsali, Gail & Anna Rogall, Cheryl DeWelt, Sheryl Henderson, Jennifer Liebert, Diane Drives, Sheryl Boser,
Julie Rothwell, Nick Sanek, and Jessica Rowe